Program Facts

Complete your associate degree in as few as 17 months.*

Learn to provide cleanings, take x-rays, and promote oral health.

Program has initial accreditation by the Commission on Dental Accreditation (CODA).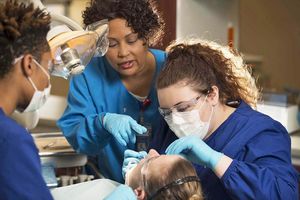 Program Overview
Train for a career that gets smiles with Concorde in Jacksonville. Our CODA initial-accredited Associate of Science in Dental Hygiene program offers you the foundation of science, professional knowledge and clinical skills you need to help others preserve their oral (and overall) health.
As a dental hygienist, you'll work within dental practices to provide cleanings, perform screenings and take x-rays. You'll also provide education on at-home care to patients. Finally, you'll act as an important source of information for the dentist, alerting them to problems or changes in a patients' dental health.
Dental Hygiene Curriculum
The dental hygiene associate degree program at Concorde covers general education, dental science and practical skills. Thanks to our on-site dental clinic, you can also gain supervised clinical experience treating patients and serving the local community while you learn.
You can complete this program in as few as 18 months* of study, including board certification† exam review.
Anatomy and Physiology
Dental Materials
Dental Office Management
Dental Radiography
Periodontology
Dental Public Health
Dental Law and Ethics
*Program length may be subject to change dependent on transfer credits and course load. Please refer to current course catalog for more information. Concorde does not guarantee admittance, graduation, subsequent employment or salary amount.
†Professional certification is not a requirement for graduation, may not be a requirement for employment nor does it guarantee employment. Registration and certification requirements for taking and passing these examinations are not controlled by Concorde, but by outside agencies, and are subject to change by the agency without notice. Therefore, Concorde cannot guarantee that graduates will be eligible to take these exams, at all or at any specific time, regardless of their eligibility status upon enrollment.
Accreditation Statement
The Dental Hygiene program is accredited by the Commission on Dental Accreditation and has been granted the accreditation status of "initial accreditation". CODA is a specialized accrediting body recognized by the United States Department of Education. Commission on Dental Accreditation: 211 East Chicago Avenue, Chicago, IL 60611; 312-440-4653; https://coda.ada.org/